The response to the COVID-19 pandemic has challenged experts across a number of industries to use their skills and resources to address needs in their communities. Enter, Iris Luckhaus.
Luckhaus, a German illustrator, stylist, and designer based in Wuppertal and Berlin, exemplifies exactly this.  Her background in clothes design and pattern making allowed her to change the course of emergency mask production throughout the rest of the world.  
For the past few years, Luckhaus primarily worked as an illustrator, graphic designer, and writer, creating catchy advertising, beautiful books, and scientific infographics. But after learning about the shortage of masks at the beginning of the COVID-19 pandemic in March, Luckhaus dusted off her sewing machine and got to work, planning to sew masks for her family and friends. She initially tried the existing designs but found them unsatisfactory, time-consuming, and often impractical.
"They just didn't fit right for me; they were uncomfortable, some fogged my glasses, others slid up my eyes or dropped down my nose as soon as I opened my mouth. Most of the masks I tried even had large gaps, which makes them far less safe." Luckhaus said.
Taking matters into her own hands, Luckhaus used her pattern making skills to create an entirely new type of mask. On her very first attempt, she struck gold. Her new cloth mask, which she now has copyrighted, combines the better features of known models with some hacks of her own, as some sort of hybrid. The hybrid cloth mask fits exceptionally well and is very quick and easy to make. The upturned backward pleat fits so snug that it makes the usual nose piece an optional choice, the pleats in front allow for unconstricted breathing and speaking, the trapezoid shape fits the anatomy of the human face and the drawstrings allow a gap-free fit on the sides as well as the interchangeability of tie systems.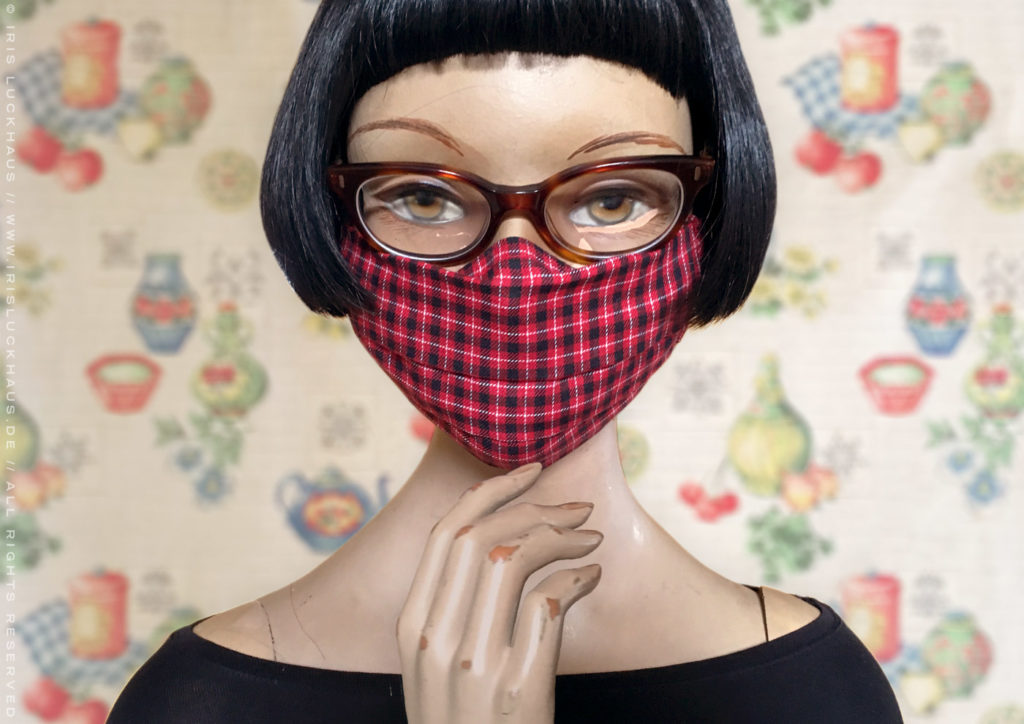 "In all my fields, I have a true passion for reinventions, in a way that every little detail ideally should have a reason and make sense," Luckhaus said. "It's deeply satisfying for me to find the one solution that really works."
Like any good inventor, Luckhaus didn't keep her new design to herself. She created a design guide and instructions, which she shared with the OSMS community. The local response groups jumped on her design, and incorporated it into their own production efforts. Now, Luckhaus spends most of her free time answering questions from other sewing volunteers about her design, creating a detailed tutorial for novices to follow and evolving new ideas, like an instant no-sew variant of her hybrid mask design that can simply be stapled.
Indeed, her knack for pattern making served her well in creating a new way to make masks. She explained, "As terrible as the reasons why we need to wear masks are, I enjoyed the dive back into pattern making and to have yet another interesting pattern problem to solve, one which I've never even considered before: How do we dress the human face?"
As cities across the world begin to reopen with stringent rules regarding mask wearing, the demand for personal PPE will only grow. Luckhaus' design makes it easier for volunteers to make masks to donate to others, and more comfortable to wear those masks for long periods of time.
"It makes me dearly happy to be able to help the helpers these days, in my very own sort of way, and especially as this happens in a network of like-minded individuals," Luckhaus said.