Download the Impact Report
OSMS and Nation of Makers produced an in-depth report on the open source maker and manufacturer response to the COVID-19 PPE crisis, DESIGN | MAKE | PROTECT. Download your copy now.
Understand what shaped and influenced the open source response to the 2020 COVID-19 medical supply shortages: why it happened, who responded, what got made, where it went—as well as what worked and what could work better next time. Download DESIGN | MAKE | PROTECT.
48.3+ Million
Units of Medical Supplies Delivered
$271 Million
Worth of Supplies Manufactured
42,000+
Citizen Responders
1,878+
Individuals & Groups Tracked
86
Countries with Local Response Efforts
This is a kick-ass piece of work that can help our spaces and communities show and prove the impact that we as a world/nation-wide maker community had on responding to the pandemic. Go read this report – it is just stunning.
-Todd Thomas, Tinker Bristol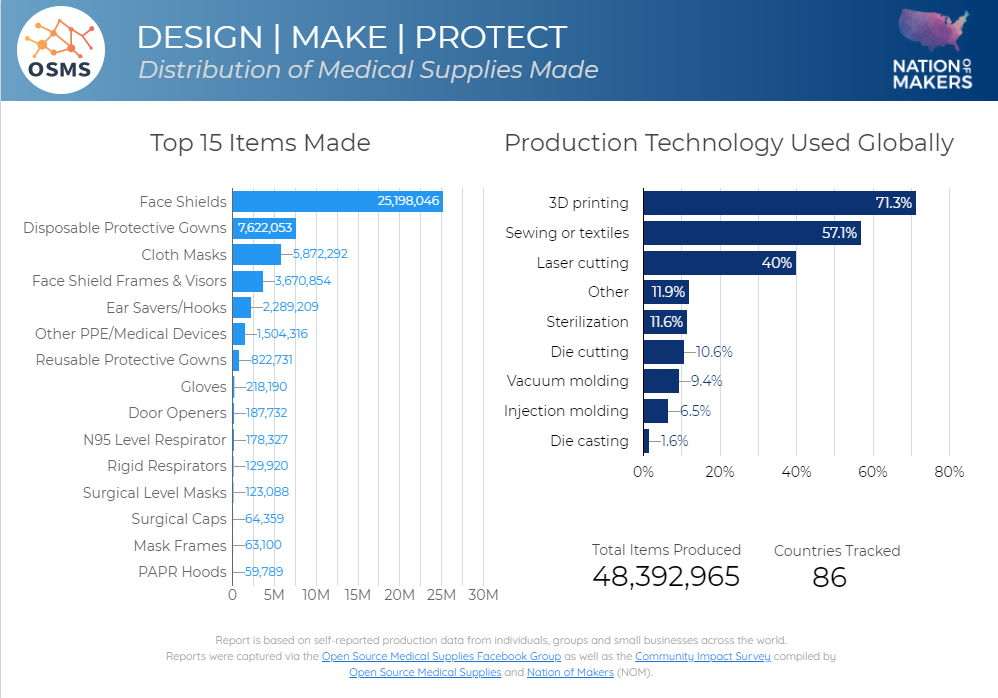 These supplies were distributed to healthcare workers, essential workers, and others within local communities when the medical supply chain failed and couldn't keep up with global demand for PPE and other medical supplies.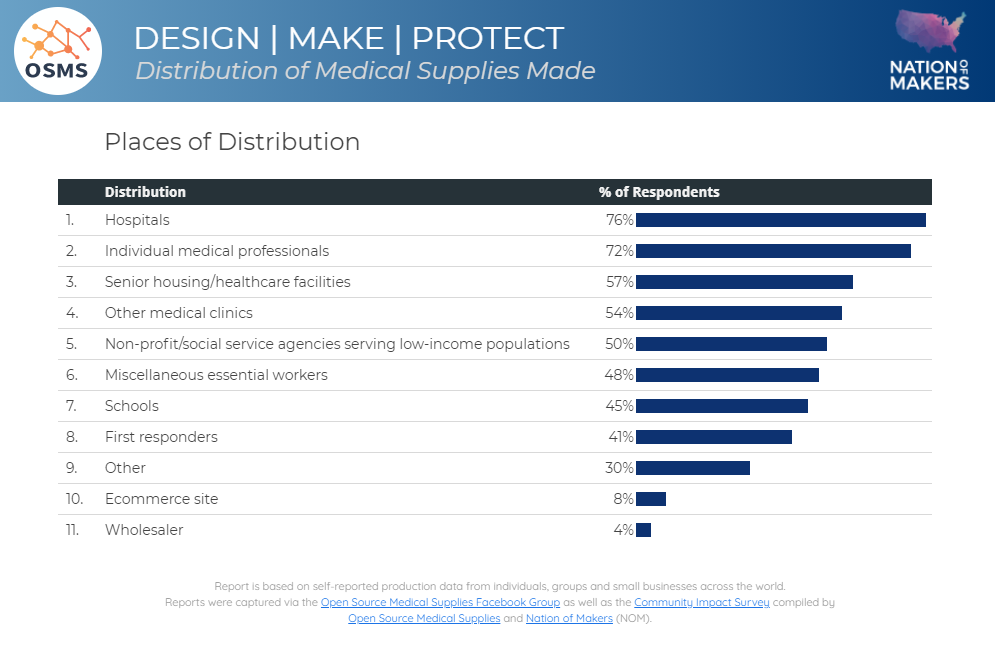 These production efforts coordinated and shared open source information digitally, and produced supplies locally across the world.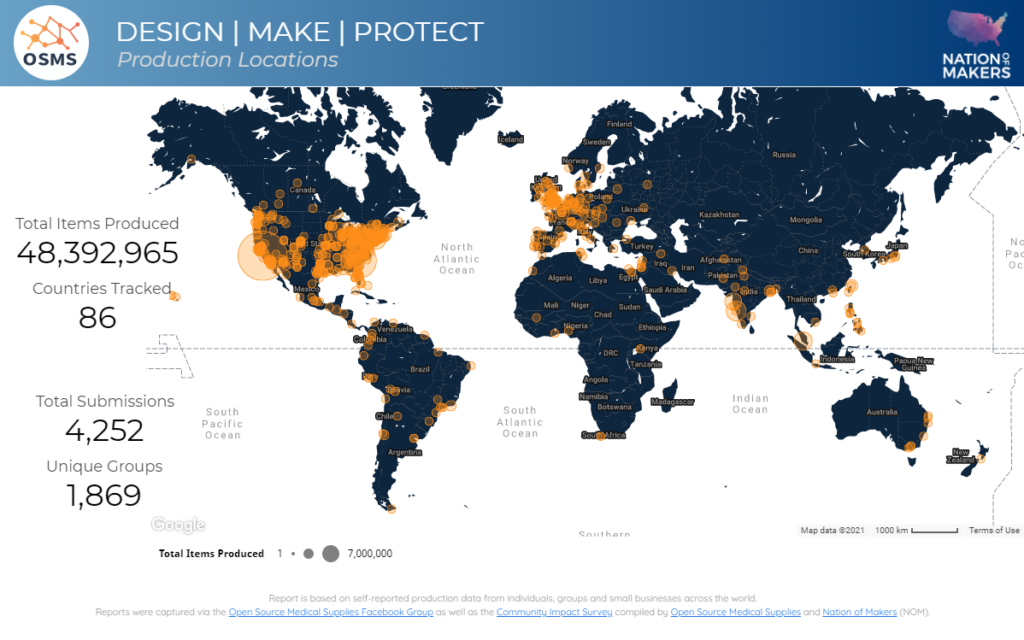 Data Collection Methods
OSMS held an informal public weekly tally from March to August of 2020, in which it surveyed members of its Facebook group of 72,000 people from across the globe (see example). Data publicly submitted by over 300 response groups was vetted by our staff before being included in this dataset.
OSMS and Nation of Makers (NOM) then teamed up to create and release a Community Impact Survey to more-fully understand the technologies used, activity status of the groups, and partnerships that were built as part of supply production and distribution. We also have incorporated response data from a parallel Fab Foundation survey of its global network of FabLabs. In January 2021, we released a full data analysis in our report, Design | Make | Protect. Download it above.

Interactive Infographic:
Equipment Types Produced
This infographic is exclusively fed by the Tally data we've obtained between March and August 2020, and therefore tracks a total of 16 Million devices. You can interact with our dashboard by clicking on specific equipment types, or selecting them and the date ranges from the dropdown menus on the top.
Interactive Infographic:
Relative Production Data, Normalized by Population
The above infographic displays relative production – PPE items per million population – for each of the 52 countries we have received production data from.
Interactive Infographic:
Production Quantities by Locations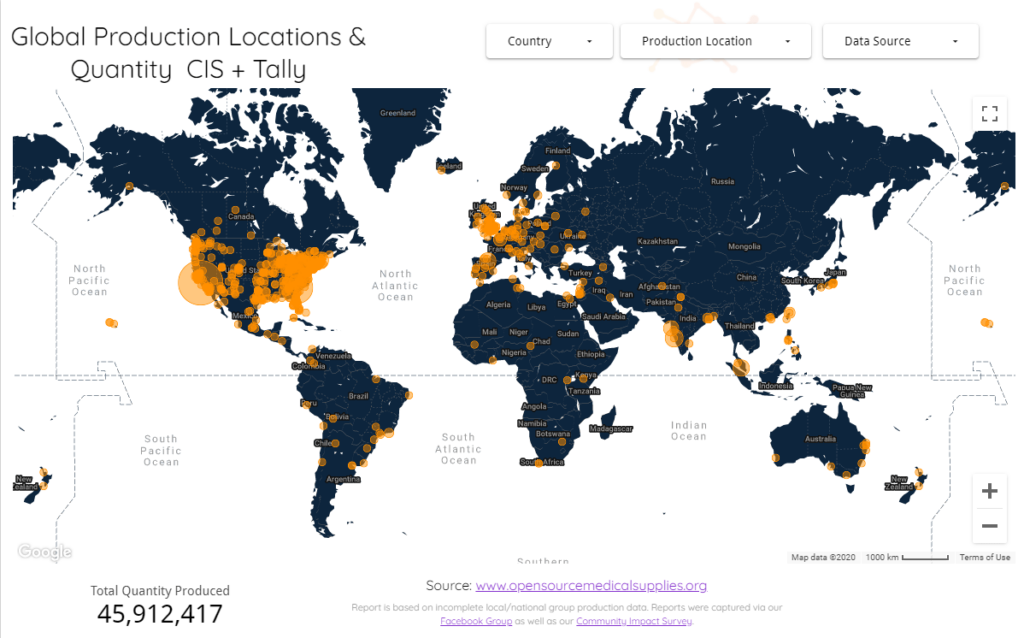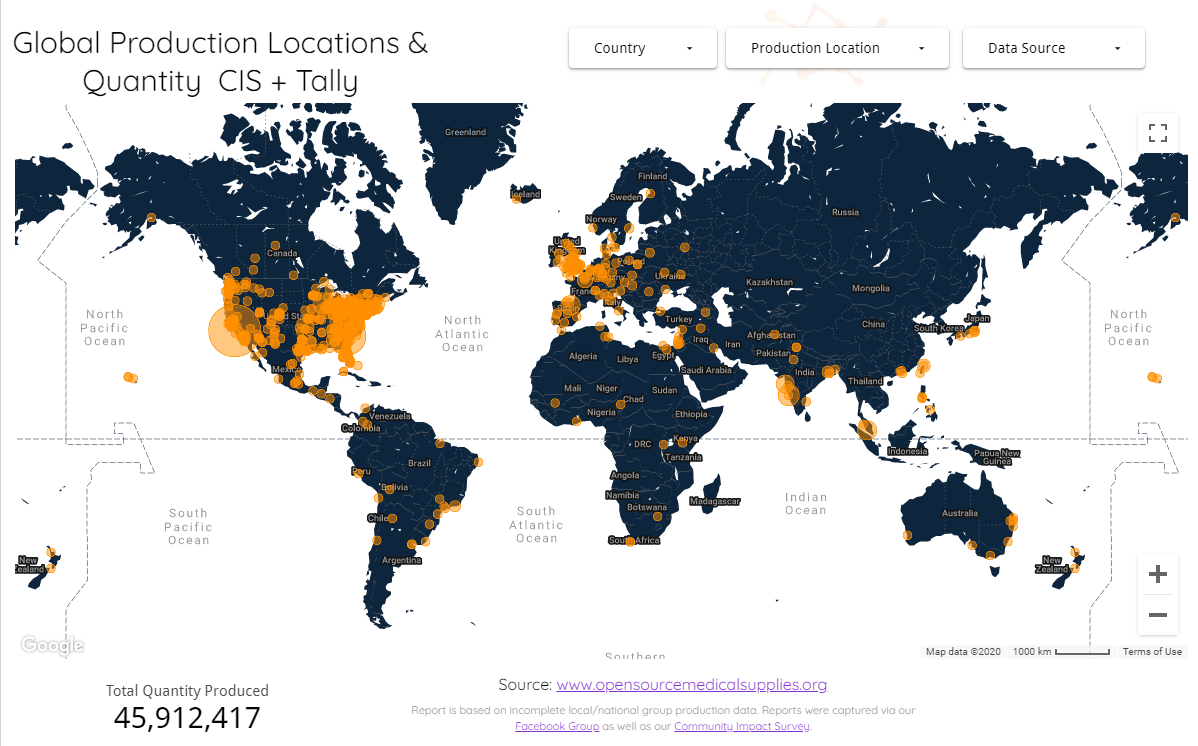 The above infographic opens in a new window due to mapping requirements. It displays the cities, states and countries of our data sources. Some organizations are nation-wide collaborations, so the pins are centered within these countries. You can filter by country.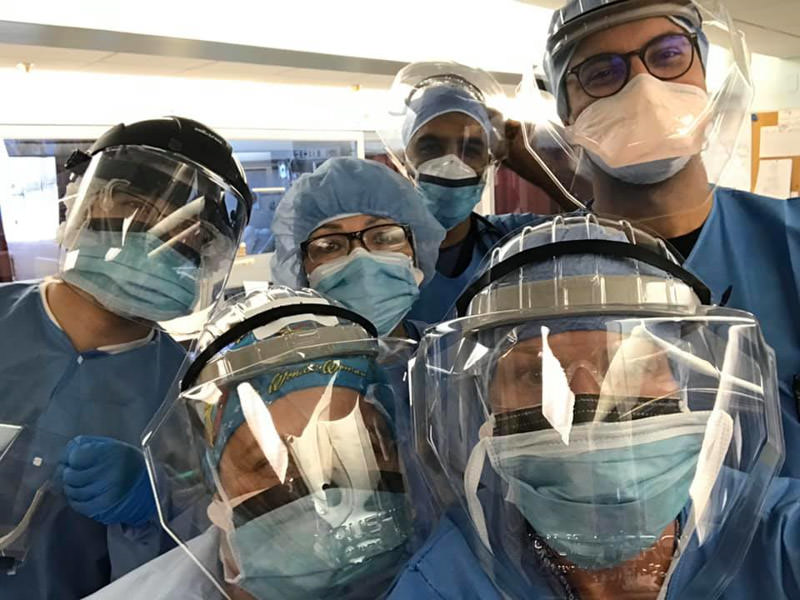 "...it meant the world and literally, in some cases, probably our lives to have this equipment and protective equipment produced and distributed by this army of volunteers. And…I don't know that we can ever say thank you enough."

David Rainosek, MD, Associate Medical Director of St. Vincent Rehabilitation Hospital, Arkansas, USA
Read the Report
Study the maker response in detail through our free 97-page report that we published with Nation of Makers.
Get Involved
Want to use the data of our report, become a partner in solving big problems, or learn more about us?